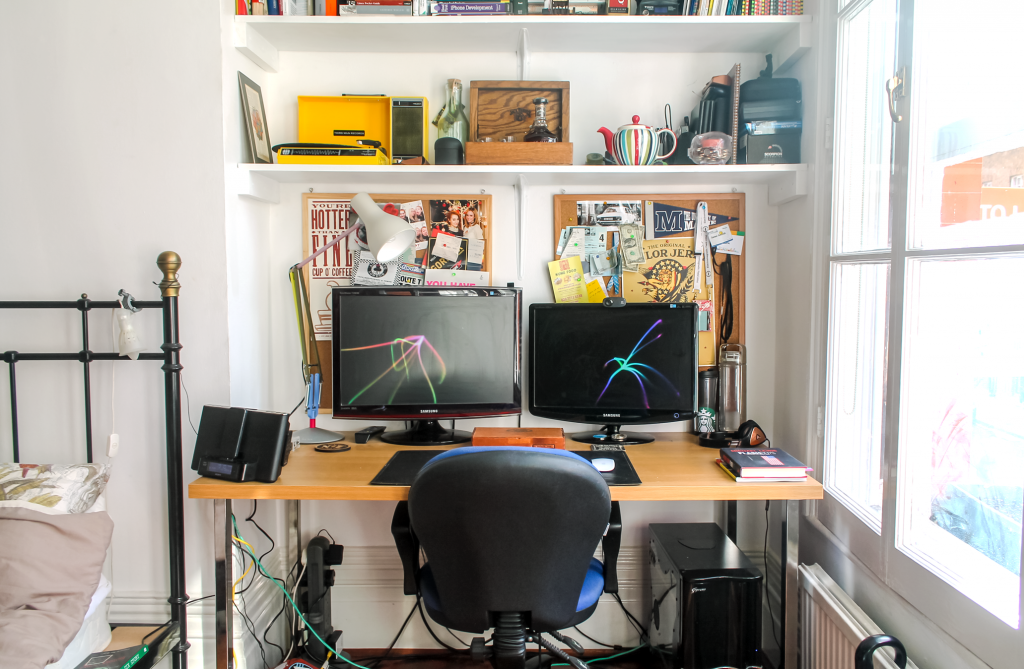 This is where the magic happens!
It's important to have someplace comfortable to work. Where you have everything you need in order to be your most productive. Apart from being at my works office, I find I'm most productive simply with a decent desk that I can get my long legs under. Working in a public place or at some generic loud coffeeshop isn't my idea of 'productivity heaven', nor do I unnecessarily want to advertise my work to prying eyes or rubber necks.
So for the past couple of months I've been working towards setting up a suitable place to work at home.
One Saturday morning I did a 'quick' dash to Ikea (hell for the undomesticated). After navigating through the endless rooms full of slow moving people, I managed to grab a cheap Linnmon table top in oak effect (£25.00), plus four silver legs (£10 each). This was followed by a quick pit stop to B&Q to pick up supplies for constructing some made to measure shelves.
All in all the setup cost me about ~£85, which is pretty good going as I was only trying to achieve a cheap setup. There is no point in me investing in anything too fancy as I have a tendency to move places often.
Below is a shot of how the current setup at my place in Chancery Lane looks.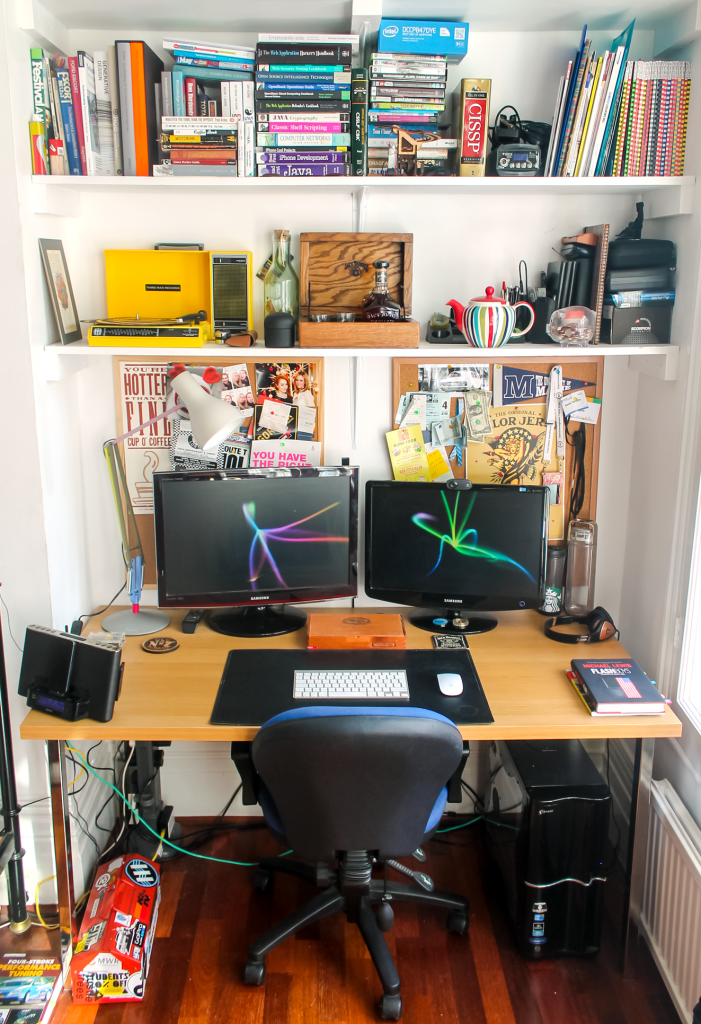 In the photo you can see that the top shelf is pretty much reserved just for books. From left to right are; engine tuning guides, Mk1 Escort manuals, graphic design, financial, security, coding books, as well as a few classics (Gatsby). My digital solder station is also stored up there, tucked next to a bunch of Wired UK and Classic Ford magazines.
The bottom shelf contains more personal possessions that I prefer to keep within arms reach. Left to right; my Third Man Records branded Crosley turntable that I picked up on a visit to the States, a pair of RayBan 3025 aviators in gold and my Armani watch enscribed with 'Happy 21st' from my folks. From the States also is a Jack Daniels whiskey box made from recycled barrels with a bottle of rested rye, Whittard of Chelsea teapot and a cased GoPro HERO3+ Black Edition mainly used for shooting videos of the Mk1.
Most things I try to keep off the desk as having a width of only 150cm, space is somewhat at a premium. Left to right is; Anglepoise Type 75 Paul Smith Special Edition, Sony Dream Machine for iPhone 5, dual Samsung screens, Apple wireless mouse and keyboard, a recycled cigar box used as a trinket box, Starbucks mug, Kor One hydration vessel in chrome, one pair of AWESOME Monster Monster DNA on ear headphones in black with rose gold, and finally the last book I have read, Flash Boys by Michael Lewis.
On the floor to the left is my trusty red toolbox that my granddad gave as a birthday gift when I was around five. On the right is my beast of a Hackintosh running OS X 10.10 Yosemite.
That's it for the current London setup. Sometime in the near future I might do a follow up post on the workshop back at my family's home if I get the chance.
Feel free to tweet me with your workspaces (so long as they're also a geek station) at @bytesandbolts
-Dan